Awards and Acceditations
We are delighted to have been awarded the Silver Equalities Award for our commitment to Equality of Opportunity for every member of our community. We are currently making progress towards the Gold Award to be achieved by June 2024. We work closely with Equaliteach who help us to audit our provision according to four key areas: Personal Development, Teaching and Learning, Behaviour and Welfare and Leadership and Management.
---
We proud to have hosted the Three Rivers and Watford School Sports Partnership (SSP) since 2005. The Partnership, is a collaboration of 39 infant, primary, secondary and special schools who work together to enhance the provision of PE and School Sport. The SSP staff support our partner schools to obtain the Bronze, SIlver, Gold or Platinum School Games Mark. Rickmansworth School was awarded the Platinum Games Mark in recognition of our outstanding PE department and the ongoing success of the SSP.
---
We were delighted to be awarded the School Games Platinum Mark for 2021-23 to celebrate our commitment to sporting opportunities for our students, having successfully previously been awarded the Gold Award. Working closely with the Three Rivers and Watford School Sports Partnership, as well as local primary schools, the school is proud to provide positive experiences to support character development of young people to make a meaningful difference to their lives. Our provision is designed to ensure that our students receive positive competition experiences relative to their own individual needs and motivations.
---
Rickmansworth School has been awarded the Healthy Young Minds in Hertfordshire Mental Health Kitemark; to achieve this, the School was assessed over 11 key areas around supporting mental health and wellbeing for the whole community. At Rickmansworth School, we actively promote positive mental health and wellbeing for all. We recognise that every community member has mental health that needs to be looked after. We aim to celebrate positive mental health by providing strategies to help support your wellbeing and those around you.
---
At Rickmansworth School, we believe that students are not innately gifted or talented and that effort is a key characteristic of being a high achiever. The Able and Ambitious programme we have created captures the idea that some students are performing at a level over and above expectations in a particular area. Still, this situation is flexible depending upon effort, and all students have access to the programme and a wide range of resources to encourage an ambitious mindset. Able and Ambitious students must work hard to maintain their position, while other students can join the Able and Ambitious programme by improving their performance throughout the year.

---
Inclusion promotes equal opportunities for all pupils, whatever their age, gender, ethnicity, attainment and background. At Rickmansworth School, our inclusion motto is that "no student is left behind". We have recently been recognised for our achievement and received the Inclusion Quality Mark. The Inclusion Quality Mark provides schools with a nationally recognised framework to guide their inclusion journey. The IQM team help schools evaluate and measure their performance, empowering them to improve and grow.

---
TES Award Nominations
The TES Awards bring both independent and state schools together to celebrate excellence across the whole education sector in one national event. Rickmansworth School were nominated and shortlisted for two TES Awards in 2022:
Community Engagement Initiative of the Year
School of the Year for Staff Wellbeing
These are national awards and competition is fierce; we felt incredibly honoured to be considered one of the top schools in the country for these aspects.
In 2023 we were shortlisted for pupil mental health initiative of the year. The approach and commitment the school takes in ensuring that students are very well supported is second to none. It was a great honour for the school to be considered again one of the top schools in the country for this aspect.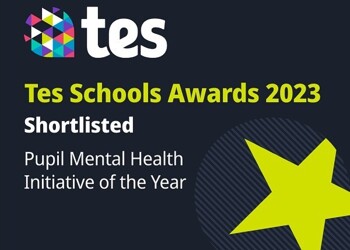 ---
The Thank a Teacher campaign, led by The Teaching Awards Trust, calls on children, their families and the wider community to show their support for their favourite staff members who help or have helped them during their time at school.
According to the 'Thank a Teacher' online heatmap, in the last academic year the school received more 'thank you' messages than any other in the East of England, based on the number of cards sent to staff from students.
Mary Palmer, CEO of The Teaching Awards Trust, said: "Congratulations to everyone at Rickmansworth School for being named the most thanked school in East of England, and for the incredible work they are clearly doing for their community'.
---
At Rickmansworth School we are passionate about the environment and we are working hard towards becoming a sustainable and environmentally friendly school. In January 2022, we were very proud to be awarded the Eco-Schools Green Flag.
The Rickmansworth School Eco Committee has representatives from each year group who work together to achieve and sustain our Green Flag accreditation. The Eco Committee works alongside staff to make our school greener and more sustainable.
---