Life at Rickmansworth
Back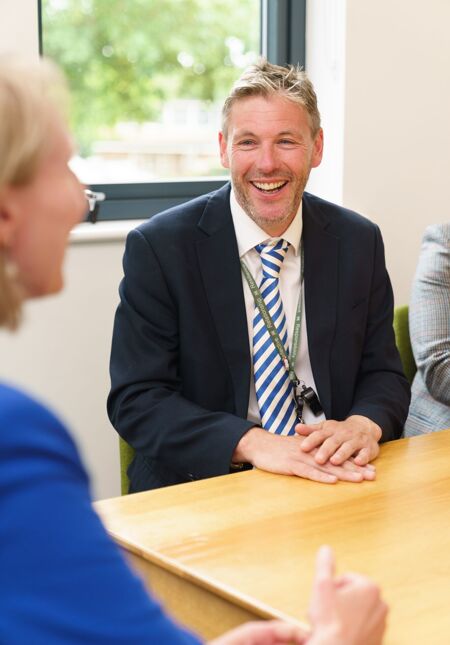 Mr S. White - Director of Sixth Form (Assistant Headteacher)
What Set You On The Path To Teaching?
I remember very clearly sitting in an office, bored out of my mind typing direct debit numbers into a spreadsheet. At that moment, I decided that I needed a career that would excite me, one that would be different every day and one that involves one of my passions in life: sport. The very next day, I applied to do a PGCE course in physical education and the rest is history.
What Was It That Attracted You To Working At Rickmansworth?
I was brought up in St Albans and I wanted to stay fairly local as family is very important to me and I wanted to be near my mum and dad. I saw a job in the TES paper for a PE teacher at Rickmansworth School and after finding out that it was a school with a strong reputation (but unfortunately not strong sporting facilities at the time), I decided to apply. 19 years later, and a number of different job roles and I am delighted to still be here.
What Does It Mean To Be A Director Of Sixth Form?
It is a real privilege to be Director of Sixth Form. To be able to help students on the journey from GCSEs through to A Levels and beyond is extremely rewarding. Working with young adults can at times be testing but ultimately it is a job with so many different elements to it, there is never a dull moment. I particularly enjoy the rapport that you can build up with the students and the challenge of guiding them through what can be the most tumultuous time in their lives.
What Characterises A Rickmansworth Student In The Sixth Form?
Someone who is hardworking and respectful and who is willing to take responsibility for their own learning. They should have a sense of fun and be willing to immerse themselves into the Rickmansworth School community. They should grasp as many of the opportunities that are on offer to them as possible and as a result, will leave us as well-rounded individuals whilst also reaching their own academic potential. This will help them to take the next step in life which is right for them.
What Is The Most Important Thing That You Look For In A Student Wanting To Join Our Sixth Form?
Someone who is proud to be a member of the Rickmansworth School community, and respectful and kind to all its other members.
As A Teacher Of Physical Education, What Is Your Favourite Sport And Why?
Cricket is my number one sport. Personally, it has given me the opportunity to travel the country, play at some amazing grounds and build lifelong friendships whilst also physically and mentally challenging myself to be the best sportsperson I could be.