Life at Rickmansworth
Back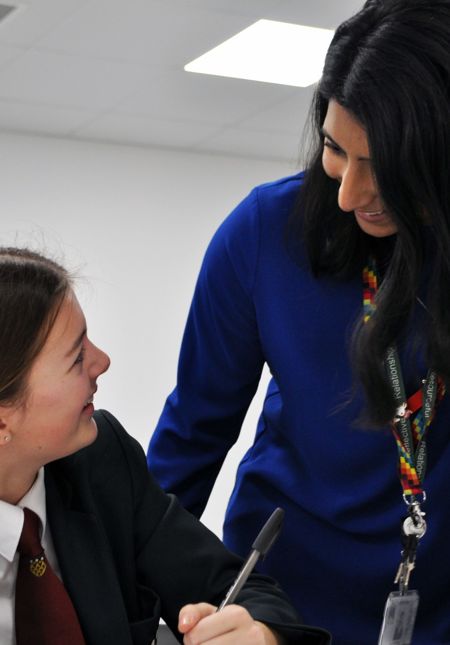 Ms U. Ghantiwala - Director of Learning (Teacher of English)
WHAT SET YOU ON THE PATH TO TEACHING?
It wasn't an immediate decision for me; I finished university but still had a thirst for learning. After completing a Masters, I realised that I wanted to be a part of something that could have a valuable and lasting impact on others. One of the best revelations of teaching so far has been the fact that we, as teachers, are not just responsible for academic attainment but also shaping students' understanding of their role in society and how they perceive their own ability.
WHAT WAS IT THAT ATTRACTED YOU TO WORKING AT RICKMANSWORTH SCHOOL?
It is clear to see that amount of time and effort put in to ensuring that students have every opportunity to discover their potential, with an array of resources and activities offered by the school. The teachers here go above and beyond for their students and on my interview day, I could see that students had a strong rapport with staff. It was a community I knew I wanted to be a part of.
WHAT DOES IT MEAN TO BE A DIRECTOR OF LEARNING?
My priority is ensuring that the students feel comfortable approaching me and that I am able to create a safe and friendly environment. It's important to understand and celebrate that every student is different, and I want to ensure that each of my students are being offered every opportunity to flourish and reach their potential.
WHAT CHARACTERISES A RICKMANSWORTH STUDENT?
Someone who is enthusiastic, diligent and respectful
AS A TEACHER OF ENGLISH, WHAT IS YOUR FAVOURITE BOOK?
'A Fine Balance' by Rohinton Mistry